SuperSpacer
Our high performance spacer
The type of spacer used in double glazing is key to its performance and durability, that's why we use SuperSpacer® in all of our double glazing units.
SuperSpacer® is a no-metal spacer, made from Thermoset, a high-density silicon foam with 100% memory. It is a superior insulating material and is more durable by design than rigid spacer systems. The thermoset spacer will expand and contract, but will always return to its original shape so it cannot be distorted by temperature changes once the window is in place. It also has outstanding UV resistance.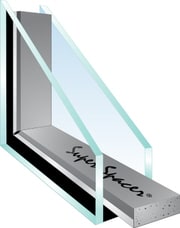 No-metal advantage
"Thermal efficiency through no presence of conductive metals" is SuperSpacer®'s hallmark. The edge of the insulating glass unit is the most vulnerable to heat and cooling loss, condensation and frosting. SuperSpacer®'s no-metal formula blocks the heat escape path and provides one of the best thermal performances in the industry. That means it keeps the heat in during the winter and keeps the cool in during the summer. SuperSpacer® assures comfortable humidity levels with hardly any worries about condensation and mould.
Metal can't bounce back the way SuperSpacer® can. Thanks to the Thermoset Spacer technology, the spacer will expand and contract, but it will always return to its original shape.
Rigid metal and plastic spacers cannot compensate for the natural expansion and contraction that occurs daily in insulating glass. Without a non-metal spacer, such as SuperSpacer®, double glazing is more vulnerable to developing thermal stress cracks that eventually lead to seal failure.
SuperSpacer®'s 100% memory formula will stand up to a wide range of temperatures.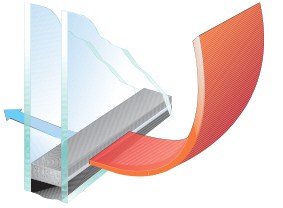 Durability
SuperSpacer®'s outstanding durability is directly related to its edge seal design. Conventional dual-seal technology first lays down two polyisobutylene (PIB) moisture barrier side beads on a metal spacer, backing them up on the outside with a structural sealant to hold the spacing system together. SuperSpacer®, however, reverses the process. Its structural seal is on the inside – pre-applied to the spacer itself. This takes the form of a pressure sensitive, acrylic adhesive backed up by hot-melt butyl or a comparable, low permeable sealant on the outside, where a gas/moisture barrier seal can do the most good. The result is an unbelievably durable double seal that provides for amazingly consistent seal quality.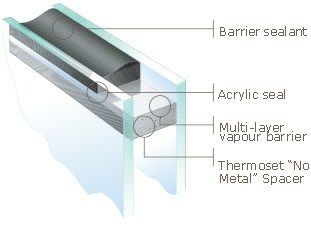 Double glazing for life
SuperSpacer® meets the challenge of the P-1 chamber, the test many engineers rate as the world's toughest. One week spent in a P-1 chamber is the same as one year in the field. SuperSpacer® survives 100 weeks, so you can work out the implications for yourself. When choosing a double glazing system, make sure you specify the one that doesn't give up when the going gets tough.
The seal of approval from around the world
SuperSpacer® meets New Zealand standard BS5713 and EN1279  so you can rest assured it's passed the test for local use. But that's just a small part of the picture. Building authorities around the world have certified SuperSpacer® for performance in a huge range of climates. From Norway, Canada and the USA to Germany, Spain and China – the SuperSpacer® system has the seal of approval.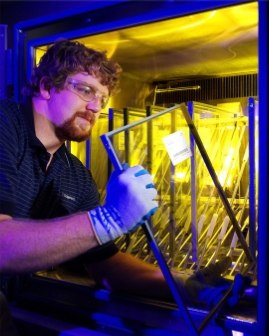 Energy saving performance
SuperSpacer® is a positive step towards ensuring a sustainable, energy efficient future. As up to 80% of energy loss through a window occurs at its edge, SuperSpacer®'s thermally efficient all-foam, No-Metal properties, proven to be less conductive, will significantly reduce such loss.
This true-warm-edge technology will reduce the energy required to heat or cool your home which is great for you and the environment. The true-warm-edge technology also means that SuperSpacer®controls condensation and mould resistance more effectively than alternatives.
Warm in winter, cool in summer
Insulation works both ways. As SuperSpacer® is less conductive than metal spacer's, it blocks heat from escaping or entering your home through the glass edge, providing optimal performance and the lowest U-value in the industry.  The U-value of a window is the measure of its ability to transfer heat, so windows with the lowest U-value are the most efficient insulators. Condensation can lead to more than bacteria and moulds. It can increase the likelihood of fungi, viruses and mites that cause respiratory infections, allergies and asthma.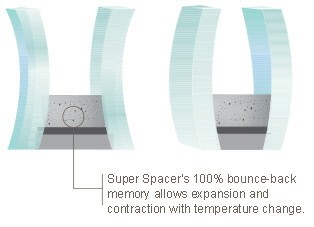 Manufacture of SuperSpacer®
SuperSpacer® has been used in double glazing around the world since 1989 when EdgeTech IG commenced business. Edgetech is part of Quanex Building Products Corporation (NYSE: NX) an industry-leading manufacturer of engineered components, products and systems serving window and door OEMs in 94 countries worldwide. www.quanex.com.