Retrofit double glazing and replacement windows in Auckland
retroGLAZE® solutions in Auckland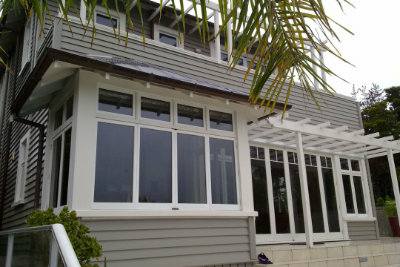 Retain the character & superior insulating properties of timber, upgraded with high performing double glazing.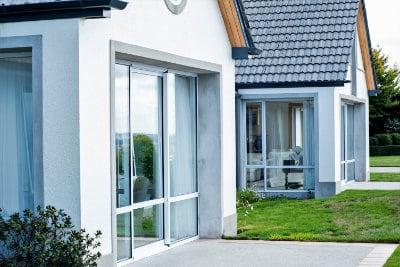 Upgrade your existing single glazed aluminium windows & doors to high performing double glazing.
Double Glazing Existing Homes in Auckland
Auckland is one of New Zealand's oldest cities, a city of cities, with homes having "glass windows" dating back to the mid 1840s.  Glass for windows in New Zealand is imported (except for a period in the 1950s/1960s when it was made North of Auckland at Whangarei Glassworks).  The first glass windows were made up of small panes, hence the multi-paned windows seen in the colonial homes of oldest Auckland Suburbs, like Ponsonby. 
Auckland's early homes were mostly cottages built of lapped horizontal weatherboards.  While most Aucklanders lived in small cottages, villas were becoming increasingly popular.
These cottages and villas were built increasingly from the 1870s in Ponsonby and the growing townships of Onehunga, Howick and Devonnport. To the south, the townships of Papakura and Otahuhu, while out west Henderson and Hellensville, boasted the kiwi romance with owning your own single-detached home.
Into the early 1900s the Californian Bungalow became popular in suburbs like Mt Eden and Balmoral, all built with single glazing and windows that were growing in size.  The house trends expanded to include pockets of Spanish Mission and Art Deco homes.  All home styles were evident in established the areas of Remuera and Epsom, with new suburbs such as Mt Albert showing the newer trends.
There is a rich history and character in these Auckland homes, with many owners looking to preserve the character, yet address the problems exhibited in their cold single glass and draughty gaps.
The Double Glazing Company solutions for timber windows allow these windows to be double glazed, maintaining the character and enhancing the comfort of these homes.  This includes "preserving" leadlight and stained glass windows, and maintaining the character in multi-pane colonial windows.
In the late 1930's Auckland's housing shortage lead to the Government's state housing projects, notably in Orakei and Auckland's CBD, then Otara.  State houses all came with timber-framed windows, and included cost-saving designs such as split rails.
The Double Glazing Company solutions includes options to fit double glazing into the existing timber framed windows or replace them with new thermally enhanced aluminium frames and double glazing.
Into the mid 1900s Auckland homes were being built with timber frames windows, or the new-and-fashionable aluminium framed windows (all still with single glass).  This first generation of aluminium windows and doors were imported.  Houses that have this aluminium joinery still today, find their windows poor performing and flimsy.  The Double Glazing Company solution sees these replaced with modern thermally enhanced double glazing, changing the comfort and enjoyment experienced in the home "dramatically". 
With the Auckland Harbour bridge came a new wave of homes onto the North Shore.  While the suburbs close to Devonport have more homes with traditional timber framed windows, homes in the Northern Suburbs (from Takapuna north) are more likely to have windows with aluminium frames.  
The second generation of aluminium framed windows and doors in Auckland was produced locally, with cost reductions and architectural designs that has seen aluminium joinery become very popular in homes since the late 1970s.  
The Double Glazing Company solutions include retro-flitting aluminum windows with double glazing.  Where homes have older aluminium joinery, or owners wish to make changes (such as new doors, new colours or upgraded thermal performance) the frames can be completely replaced with new double glazed windows and doors.
When it comes to double glazing decisions, the important thing for Auckland home-owners is being well informed to make the right decision for the windows in their home.  The Double Glazing Company solutions cater for the requirements of Auckland homes and the information provided by a consultant will contribute to good decision making.
Auckland double glazing projects
"Double glazing has now increased our privacy, improved security, and has the added thermal advantages....not to mention the aesthetic improvement. The finish looks great!"
Tim Woolfield – Epsom
"We would recommend The Double Glazing Company as friendly, professional people who are a pleasure to deal with. We received prompt service and the windows were delivered on time with no disruption to our activities while the new glazing was installed."
Dellwyn & Mostyn Ellis – Pokeno
"Going with The Double Glazing Company was a positive decision. The whole house was done quick and easy with no fuss. Not only did they provide great service, I'm also confident that this has added value to my property."
Rose Samuels – Manukau Heights
"After completion of the retro fitted double glazing, the noise reduction inside our apartment has been quite phenomenal – no more sleepless nights being woken by outside disturbances!"
N & S Arrian – Auckland